The Latin Solo Dance Competition is a competition for individual dancers who like to move to Latin music but do not have a dance partner. The special thing about the Latin Solo Dance Competition is that a dance partner is not required and that we provide the choreographies. It is therefore not necessary to have a choreography created or to make it up yourself.
The Latin Solo Dance Competition takes place within the "EUROPEAN CHAMPIONSHIPS" and therefore offers the participating groups a very special atmosphere.
Date:
20. Mai 2023; The exact time depends on the number of registrations and will be announced on the website after the registration deadline.
Competition:
The competition consists of 3 predetermined choreographies that must be danced in order to achieve an overall placement. It is also possible to register for just one dance.
Dances:
Dance A: Bachata Bebé (Videos: Demo | Teach · Step Sheet)
Dance B: Salsa Flamenca (Videos: Demo | Teach · Step Sheet)
Dance C: Bara Bambam (Videos: Demo | Teach · Step Sheet)
Procedure
After the registration deadline you will find a detailed schedule on our website.
Upon arrival on the day of the event, please report to the registration desk. There you will receive your start number and further information.
There will be a short warm-up/music preview before the competition. You will then be allowed to test the dance floor for a short time. At the latest 15 minutes before the competition, we ask you to be in the staging area and report to the floor coordinator. The floor coordinator will bring all dancers to the dance floor and assign them a place.
After the dance round, please stand again briefly at your place with your back to the adjudicators. You may leave the dance floor after being asked to do so. You will have a short break until your next dance and must then return to the staging area.
Registration
The registration for the participation via our registration form
CLICK HERE FOR THE REGISTRATION FORM "LATIN SOLO DANCE COMPETITION"
Registration deadline is the 02.05.2023
Fees
To taking part in the competition, you purchase a day ticket for €10.00 (reduced rate 5.00 € for children up to 14 years) and pay an entry fee of €8.00 per dance. Dancers who have a 3-day WCDF pass do not need to purchase a day ticket.
After receipt of payment of the participation fees we will send a confirmation of receipt.
Payment at the venue is not possible. Payment After registering with the registration form, registrants will receive a confirmation by email with a request for payment.
The total amount must be transferred to the following account by 04. Mai 2023 at the latest:
Account holder: Dutch Country Western Dance Association
IBAN: NL14RABO0149246331
BIC: RABONL2U (Rabobank)
Use: 'Name + Latin Solo Dance Competition 2023'.
After receipt of order and payment we will send you a confirmatio
Rules

Entry Regulations
This division is for all dancers who like to move to Latin American music. WCDF membership is not required. This division is not divided into genders.,
Dance Rules
Variations of the given choreography are not allowed. Arm and body movements can be designed individually. Vulgar dance movements are not allowed. Dance music length: Two (2) minutes. Each dance will be counted in.
Costumes
The clothes must not be offensive. Dance related advertisements on competition clothes are not allowed. Glitter and sparkly attachments or materials are allowed. Props are not allowed.
Dance shoes or sneakers must be worn.
Competition Procedure
At the beginning of each event, a competition time schedule will be made available to the competitor. Competitors must report to the floor coordinator 15 minutes prior to their competition starting. A Floor Coordinator will escort competitors to their position on the dance floor. Competitors who are not available when their name is called will be scratched. In all circumstances, the decision of the Contest Coordinator is final. All formal complaints must be directed to the Contest Coordinator.
Floorcraft
All competitors must respect the dance arena and not use any liquids, powders, chemicals or any other materials which could alter or damage the dance floor or cause undue stress to another competitor. All competitors should be respectful to other competitors and not interfere with or disrupt them. After the Floor Coordinator has spaced the competitor on the floor, their dance space is determined. The competitor must remain within the flow of the step description. Leaving the dance floor during your heat is not allowed and may result in a Judge Conference Penalty.
The exact location is:
Mehrzweckhalle Taucha
Geschwister-Scholl-Str. 6,
D-04425 Taucha, Germany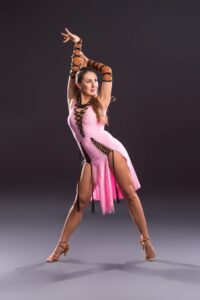 Die Latin Solo Dance Competition ist ein Wettbewerb für einzelne Tänzer und Tänzerinnen, die gern zu lateinamerikanischer Musik tanzen.
Das Besondere an der Latin Solo Dance Competition ist, dass ein Tanzpartner oder eine Tanzpartnerin nicht erforderlich ist und dass die Choreografien vorgeben sind. Es ist also nicht
nötig, sich eine Choreografie erstellen zu lassen oder aufwendig selbst auszudenken.
Die Latin Solo Dance Competition findet im Rahmen der "EUROPEAN CHAMPIONSHIPS" im Line Dance statt und bietet den Tänzern daher eine ganz besondere Atmosphäre. Eine Mitgliedschaft in der WCDF oder einem Verein ist nicht erforderlich.
Zeit:
20. Mai 2023; Die genaue Uhrzeit wird nach Anmeldeschluss mitgeteilt.
Wettbewerb:
Der Wettbewerb besteht aus 3 vorgegebenen Choreografien, die getanzt werden müssen, um eine Overall-Platzierung zu erreichen. Es ist auch möglich, sich nur für einen Tanz anzumelden. Der Wettbewerb wird nicht in Alterskategorien eingeteilt.
Tanz A: Bachata Bebé (Videos: Demo | Teach · Step Sheet)
Tanz B: Salsa Flamenca (Videos: Demo | Teach · Step Sheet)
Tanz C: Bara Bambam (Videos: Demo | Teach · Step Sheet)
Ablauf
Nach Anmeldeschluss finden Sie auf unserer Website einen detaillierten Zeitplan. Bei Ankunft am Veranstaltungstag melden Sie sich bitte an der Registration. Dort erhalten Sie Ihre Startnummer und weitere Informationen. Vor dem Wettbewerb gibt es ein kurzes Warmup/ein Music Preview. Sie dürfen dann schon einmal kurz die Tanzfläche testen.
Spätestens 15 Minuten vor dem Wettbewerb bitten wir Sie, sich in der Staging Area. Zu Beginn des Wettkampfes weist der Floor Coordinator den Teilnehmern die Position auf der Tanzfläche zu. Nach dem Tanz-Durchgang stellen Sie sich bitte noch einmal kurz an ihren Platz mit dem Rücken zu den Wertungsrichtern. Nach einer Aufforderung dürfen Sie die Tanzfläche verlassen. Bis zu Ihrem nächsten Tanz haben Sie eine kurze Pause und müssen sich dann wieder in der Staging Area einfinden.
Die Siegerehrung findet am selben Tag statt (siehe Zeitplan). Bitte beachten Sie, dass die Halle nach der Siegerehrung für die Vorbereitung der abendlichen Show und Party noch einmal kurz geschlossen wird. Diese Abendveranstaltung sollten Sie aber auf keinen Fall verpassen!
Anmeldung:
Die Anmeldung für die Teilnahme erfolgt über unser Anmeldeformular (link) für die Latin
Solo Dance Competition.
Anmeldeschluss ist der 02.05.2023
Gebühren
Für die Teilnahme am Wettbewerb erwerben Sie eine Tageskarte für 10,00 Euro (ermäßigt 5,00 Euro für Kinder bis 14 Jahre). Die zusätzliche Startgebühr beträgt pro Tanz 8,00 Euro. Tänzer, die einen WCDF 3-Tagespass haben, müssen kein Tagesticket kaufen.
Nach der Anmeldung mit dem Anmeldeformular erhalten Sie eine Bestätigung per Email mit einer Zahlungsaufforderung. Der Betrag muss als Gesamtbetrag bis spätestens 04. Mai 2023 auf das folgende Konto überwiesen
Kontoinhaber: Dutch Country Western Dance Association
IBAN: NL14RABO0149246331
BIC: RABONL2U (Rabobank)
Als Verwendungszweck bitte "Name Teilnehmer und Latin Solo Dance Competition 2023" angeben.
Nach Zahlungseingang der Teilnahmegebühren senden wir eine Eingangsbestätigung.
Regeln:
Zielgruppe
Diese Division ist für alle Tänzer:innen, die sich gern zu lateinamerikanischer Musik bewegen. Eine Mitgliedschaft in der WCDF ist nicht erforderlich. Diese Division ist nicht nach dem Geschlecht unterteilt.
Tanzregeln
Variationen der vorgegebenen Choreografien sind nicht erlaubt. Arm- und Körperbewegungen können individuell gestaltet werden. Vulgäre Tanzbewegungen sind nicht erlaubt. Die Länge der Musik beträgt Zwei (2) Minuten. Jeder Tanz wird eingezählt.
Tanzkleidung
Die Kleidung darf nicht anstößig sein. Tanzbezogene Werbung auf Wettkampfkleidung ist nicht erlaubt. Glitzernde Anhänge oder Materialien sind erlaubt. Requisiten sind nicht erlaubt. Tanzschuhe oder Turnschuhe müssen getragen werden.
Wettkampfablauf
Zu Beginn jeder Veranstaltung wird den Teilnehmer:innen ein Zeitplan zur Verfügung gestellt. Teilnehmer:innen müssen sich 15 Minuten vor Wettkampfbeginn beim Floor Coordinator melden. Ein Floor Coordinator begleitet die Teilnehmer zu ihrer Position auf der Tanzfläche. Teilnehmer, die nicht verfügbar sind, wenn ihr Name aufgerufen wird, werden gestrichen. Unter allen Umständen ist die Entscheidung des Contest Coordinators endgültig. Alle formellen Beschwerden müssen direkt an den Contest Coordinator gerichtet werden.
Floorcraft
Alle Teilnehmer müssen die Tanzarena respektieren und dürfen keine Flüssigkeiten, Pulver, Chemikalien oder andere Materialien verwenden, die die Tanzfläche verändern oder beschädigen oder andere Teilnehmer übermäßig belasten könnten. Alle Teilnehmer verhalten sich anderen Teilnehmer gegenüber respektvoll und stören sie nicht bei ihrer Aufführung.
Nachdem der Floor Coordinator den Teilnehmern die Position auf der Tanzfläche zugewiesen hat, wird der Tanzplatz bestimmt. Teilnehmer müssen sich im Ablauf an die Schrittbeschreibung halten. Das Verlassen der Tanzfläche während des Durchgangs ist nicht erlaubt und kann zu einem Judge Conference Penalty führen.